What is BOUDOIR photography?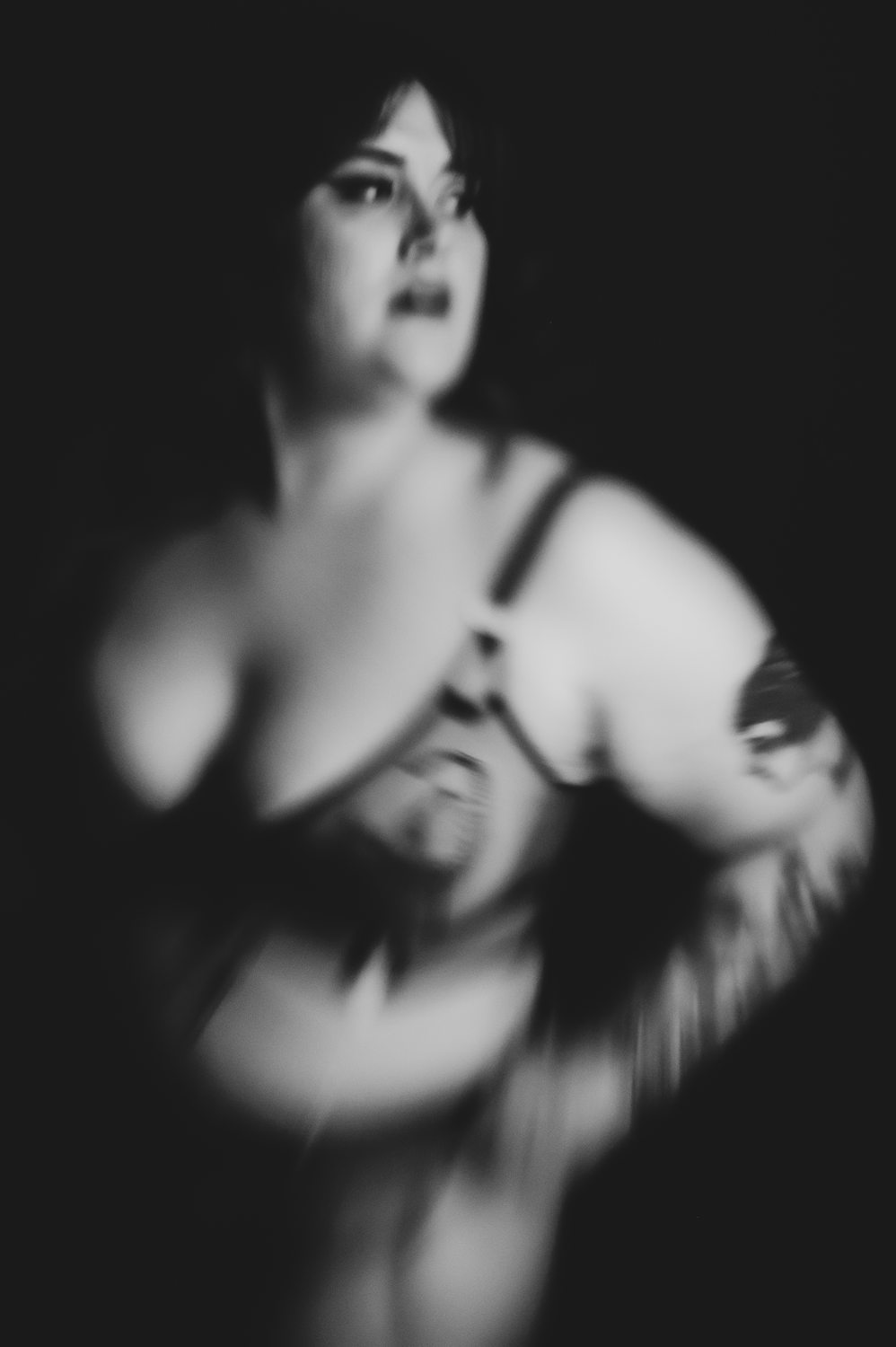 Boudoir photography is an artistic photography style that captures intimate and sensual images of a person. It focuses on the subject's personality and features, giving you the freedom to choose outfits, hair and makeup styling, overall feel and artistry, and even poses.
CELEBRATE & EMBRACE your entire being with portraits that reflect the human condition and experience like no other.
It's time to treat yourself to this life-changing boudoir photograp

hy in Michigan!
---
Your life is a journey and that should be reflected in photos
Why Should I Book a Boudoir Photography Shoot in Michigan?
As adults, we carry so much weight, responsibilities, and thoughts every single day. As women, we also want to help our fellow women (and other gender expressions, of course!) feel good about themselves.
Women and men from Grand Rapids, Lansing, Kalamazoo, and anywhere across Michigan deserve to feel empowered, sexy, and desirable.
Don't we all crave more authenticity? Keep scrolling to learn how we are masters at eliciting genuine emotion and feels that you will carry forward with you and experience again and again in your photos.
Explore your Individuality
Boudoir Photos Make Great Gifts
We celebrate your beauty, both inside and out! We love showcasing your personality. Our boudoir photography studio is a safe place to express, explore, and play!
Whether you want a unique gift for your partner or yourself, boudoir pictures are extremely personalized treats. 🙂
the signature GRIT&GRACE
self-love journey
You'll walk out of our studio with a renewed sense of self-assuredness, with images and prints that revitalize your confidence every day.
Our signature boudoir shoot self-love journey offers long-lasting benefits that will add value to your life as a woman. We focus on showing you all the beautiful things INSIDE you because that is what makes you YOU and endears you to those around you. This is a rare opportunity to see how you carry those traits every day in the world!
Love Every Inch of Your Body & Being
Despite western society's standards of beauty, we believe sexiness comes from within. Remember that boudoir photography is a self-love journey, so this is the perfect time to appreciate everything about you that the world sees every day!
---
boudoir is for every body. If you have a body, this is for you!
WHO SHOULD HAVE A MICHIGAN BOUDOIR PHOTOGRAPHY SESSION?
What You Need to Know About Your Boudoir Session in Michigan
Pre-session Prep & Homework
Professional Guidance on Clothing & Posing
Before we do the actual shoot, we provide tools to help you prepare emotionally, mentally, and logistically! We want to hear about your ideas too. Bring out your Pinterest vision board or journal notes, and we will brainstorm to craft the perfect concept for your session. This is no cookie-cutter approach here! The pre-shoot consultation will cover all of the creative and technical aspects of your booking and help you feel prepared and more excited for your boudoir photos!
You don't necessarily have to buy new clothes. However, this is a great time to pamper yourself, so we have a Client Guide complete with suggested sites for your boudoir wardrobe. I'll also give you lots of tips on how to project yourself in front of the camera. I'll coach you with authentic body language guidance, facial expressions, and even breathing! As a professional-trained boudoir photographer in West Michigan, it's my job to make you feel safe so that you can get lost in yourself.
Learn the Importance of Making Time for Yourself
It is NOT our job to tell you how to feel about your body. We have clients who want to embrace their bodies in all the ways, celebrating stretch marks, scars, and the changes of life. We have others who ask to be photographed in a body-conscious style. We each hold a different space for that relationship with self. The post-processing of final images depends on your preferences. Whether you want minimal retouching or full-blown editing, we'll follow your requests to perfection. (Please note: certain levels of retouching may incur additional costs)
The pre-session journey is equally vital as the shoot, so we'll give you lots of tips on how to pamper yourself before the shoot to feel excited! Whether it's a spa day or day-off at home to read your favorite book, we encourage you to take a breather so your body and mind will be more relaxed for the shoot. The homework our clients do, helps train your brain on ways to think more positively about yourself, celebrate YOU, and get more deeply connected with your being in so many ways.
I'm excited for you to experience a full-service Michigan boudoir photography session!
from our happy transformed clients
"This experience with Betsy has been like stretching out on a thin limb, but after letting go and trusting her to capture the real me, it has been, singularly, the kindest thing I've ever done for myself."
— Rochelle, Michigan boudoir photography client
---
We are looking forward to sharing this wonderful experience with you! Our boudoir photography pricing in Michigan includes a session retainer for the pre-planning resources and time, wardrobe consultation, professional hair and makeup, preparation guides, and our one-of-a-kind signature self-love journey.
We like to go over all of these details in a brief introduction phone call (fill out our contact form and schedule your free call). We offer a la carte items and packages for post-shoot purchases, including albums, prints, and wall art. I'll walk you through the process at your reveal ordering session a few weeks after the shoot.
Then you'll go through an album proofing process before we excitedly await for your orders to arrive. We can't wait for you to see the final images! Pop over to our contact page to share your details and book a free introduction call with our studio manager. She's been photographed by me numerous times, so she can answer client experience questions and also go over the details of the pricing and offerings with you. .
Michigan Boudoir Photography Pricing
Let's make the boudoir magic happen!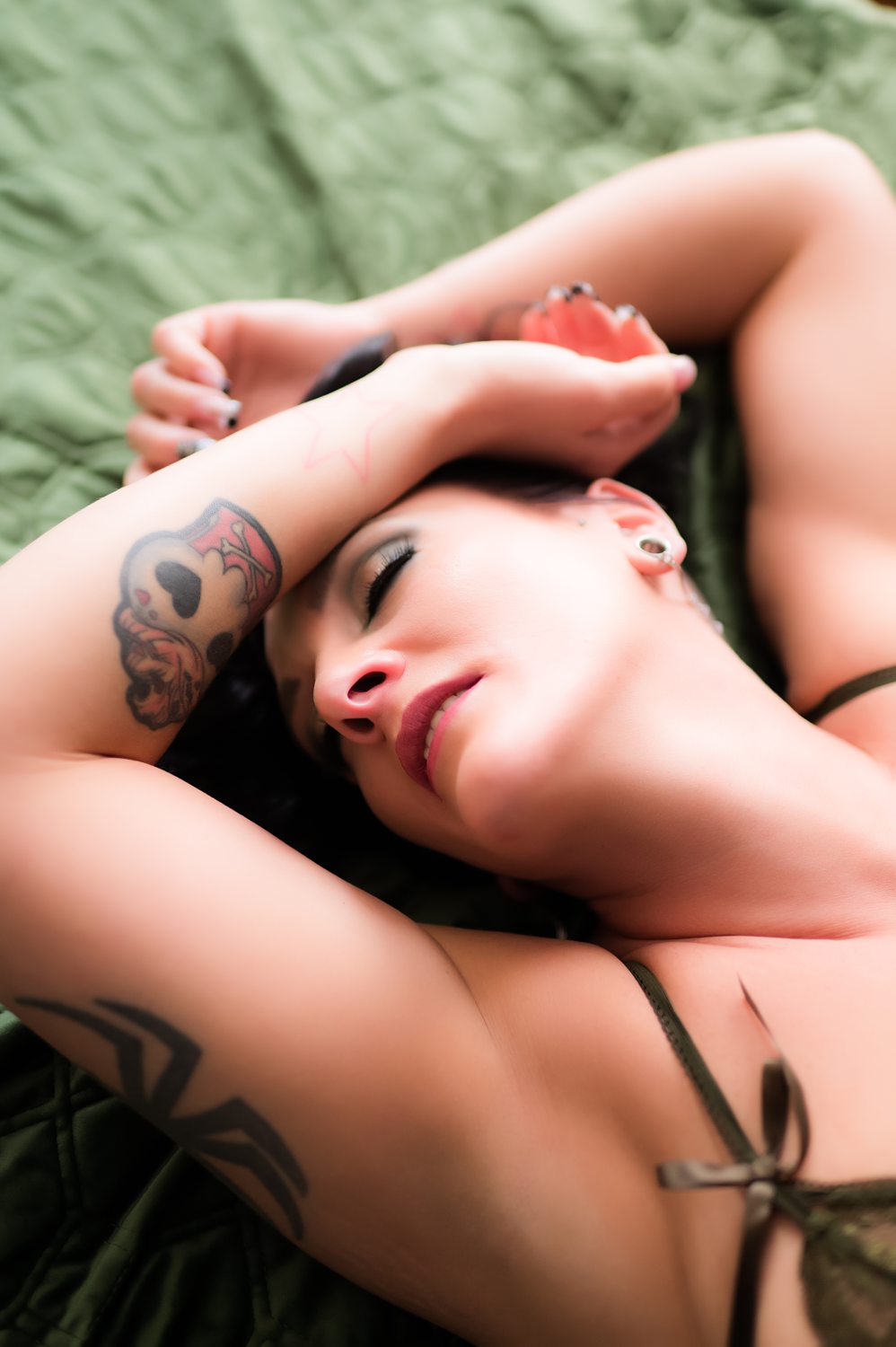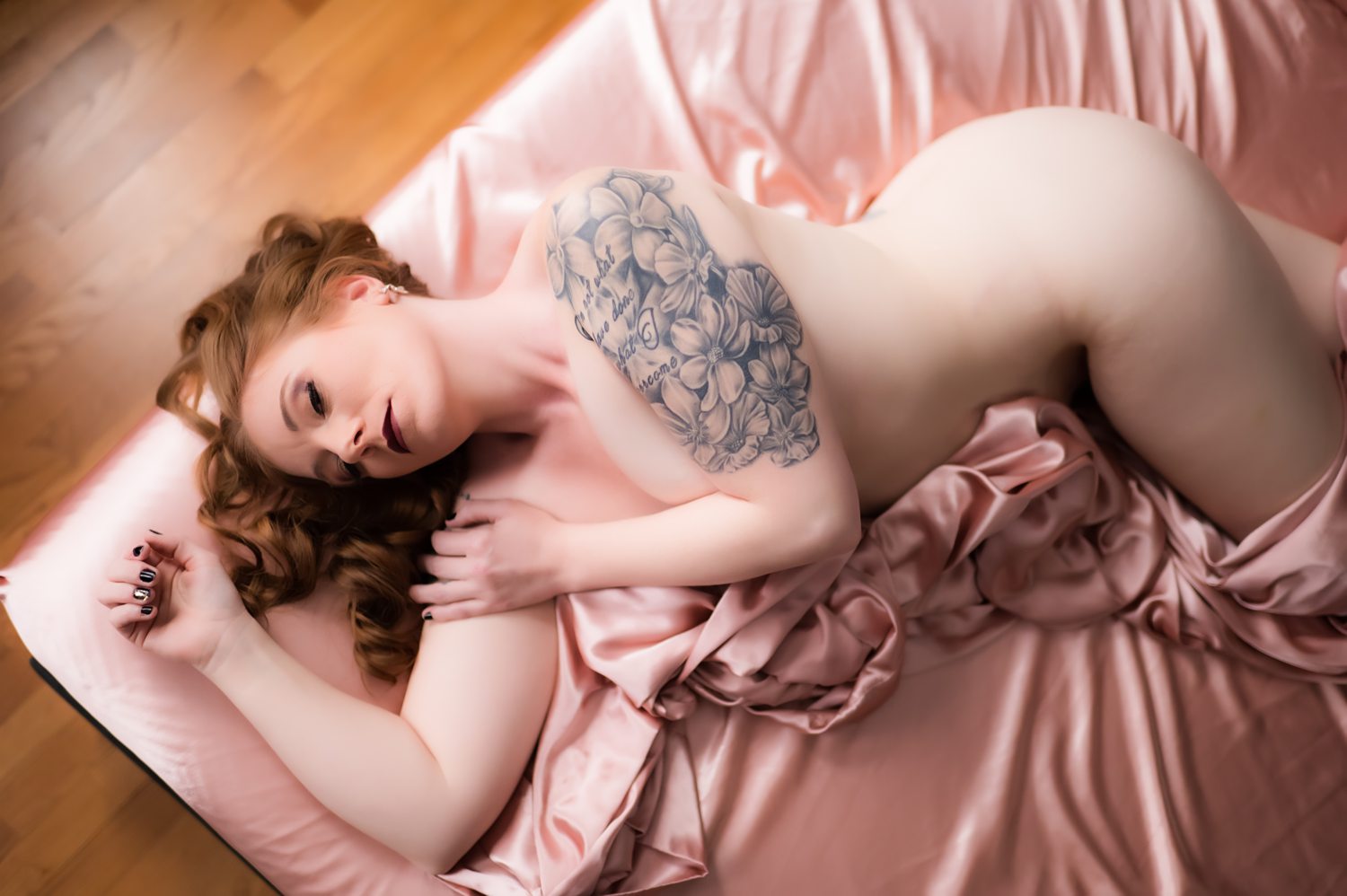 Welcome to Your Michigan Boudoir Photography Journey
We are all too familiar with unsolicited opinions, especially about the body. With your boudoir photography shoot, everything will be about YOU! No judgments and opinions from the rest of the world, just you, your body, and your thoughts.
We're thrilled to have you join our Michigan boudoir photography clients who are on a path of growth and transformation, learning to love themselves through the visual evidence of photographs. It's time to take a step closer to deeply connect with yourself and step into the being you truly are.
Are you ready for this journey? Let's explore your life through pictures!
Meet Betsy McCue, Your Professional Boudoir Photographer in Michigan
MODERN-DAY STORYTELLER

BELIEVER IN CARPE DIEM

ADVENTURE SEEKER
I've been a professional photographer for nearly two decades, but I have reinvented myself and my boudoir photography studio in Mid-Michigan to reflect what I believe is my true purpose on this planet.
After going through a significant life change in 2016 when I lost my life & business partner, I learned how precious life could be. Taking time to heal and work on myself, I traveled the world with my camera shooting for myself for a year. I've brought many lessons about getting in touch with myself during that time into a unique photo journey for my clients.
Say YES to Body Positivity and Self-Love Today.
My Boudoir Photography Mission in West Michigan
My goal is to transform the ordinary into the extraordinary. Whether for yourself, family life, or personal branding, each story will be about YOU! My work revolves around meaningful storytelling through photos that you will cherish forever.
I've been on the self-exploration journey and done the work that many of my clients embark on. Through my personal work on rebuilding myself and my life after loss, I have learned many ways to love and celebrate myself, my womanhood, and the present moment.
My life experiences have given me a truly unique perspective on how I see the light. Finding the light in the darkness is part of how I'm wired now, and boudoir photography is my tool to illustrate where they intersect and exist in a delicate balance.