FAQ Frequently Asked Questions About Doing a Boudoir Session in Kalamazoo, Michigan
Let's BUST some of those common boudoir myths and fears that hold us back! We're also going to share a new perspective on lots of great reasons to do a boudoir session in Kalamazoo along the way. Get ready!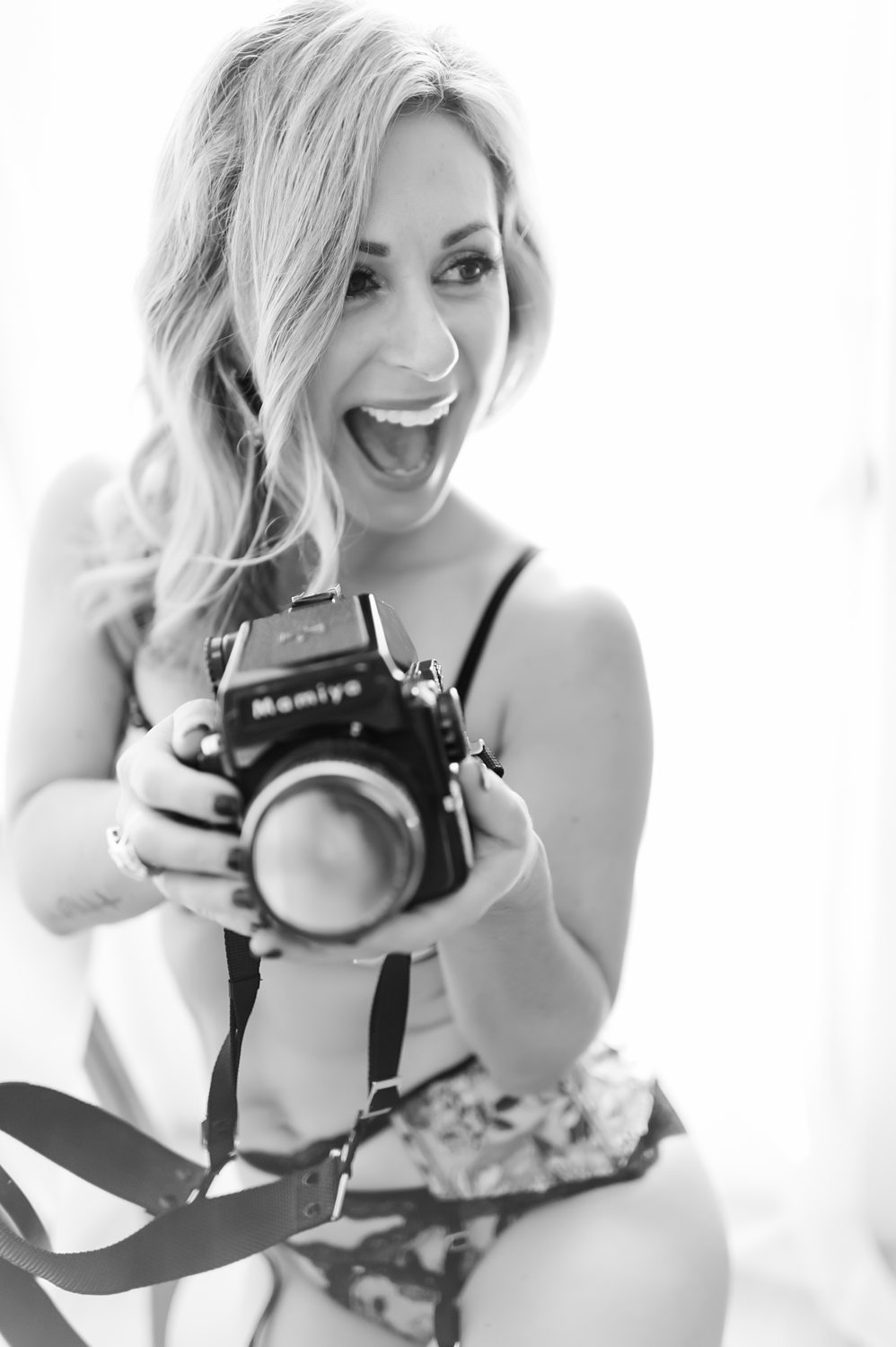 What's been getting in the way of doing your own boudoir photo session in Kalamazoo or greater Michigan? We all have roadblocks that we put up when we are thinking about working outside our comfort zone. It's totally normal! But we're here to help you get over those hurdles so that you can embrace and connect with yourself in a meaningful way again.
Lots of sexy moms out there feel like they aren't worthy of doing a boudoir session or that taking time for themselves is a luxury. No way! You deserve this. A boudoir session in Kalamazoo is probably JUST what you need to feel like the beautiful confident babe you are!
Myth #1: I wish I had the confidence to do a boudoir session.This is one we hear ALL the time. Here's the thing… confidence comes from DOING a boudoir shoot! Our signature pre-session self-love journey helps prepare you mentally and logistically for your boudoir session in Kalamazoo, Michigan. When you work outside your comfort zone, you are setting yourself up for stretching, growth, and expansion. You'll be amazed as your confidence soars during the session and how that confidence spills over to all parts of your life after your session. We hear this over and over again from our happy clients! Check out what some of our babes have shared about their transformation on Google.
Myth #2: I need to lose weight before I do a boudoir session.
You are enough, just as you are! This is something we are always working on ourselves around here. It's a daily practice. First of all, our style of photography and coaching focuses on pulling the beautiful things on the inside out for you to see on display! What we do around here is focus on your whole being, because that is the beauty that others see in you and we want to give you the chance to witness and appreciate it too! And we keep our ears and hearts open to listen and HEAR your fears and hesitations. This includes the insecurities we each carry about our bodies. It is NOT our job to tell you how to feel about your body. But, we're confident that you'll find our expert and experienced eye and skill with light, angles, posing, body positioning, and coaching will highlight your favorite assets (and maybe even change your opinion about some other ones!).
Myth #3: I am too old for this. I should've done this when I was in my 20s.Sexy knows no bounds! Sexy is not determined by numbers, whether that's age or size. BOOM! There. We said it. Sexy comes from within and we celebrate all the stages of life here. There is something to be said for every chapter and how we project differently based on our life experiences and place in life. Think of all the things you know NOW that you didn't know THEN. We love having our mature babes in to reignite their fire within while telling society to take their notions of age and beauty and shove it 😉
Myth #4: I shouldn't spend money on myself like this.
We have never had someone regret doing their boudoir session in Kalamazoo, Michigan. You will always gain something from this experience! Think of your boudoir session as an investment in yourself, your self-worth, confidence, and well-being. It will pay for itself tenfold with the confidence and space you own afterwards. We've had clients go on to immediately shift their life for the better many many times. New jobs. Asking for raises. Getting promotions. The list goes on and on! It's amazing what a little confidence boost can do for your morale and outlook. And when was the last time you did something nice for yourself? Also, FYI, we offer pre-payment plans AND financing through Klarna!
Myth #5: This all seems selfish and self-centered, maybe egotistical.
First of all, how did we ever get convinced by our culture that loving yourself is egotistical?!! Sheesh. Confidence and self-assuredness is a beautiful and sexy thing! Also, how much of your life has been dedicated and focused on everyone else's happiness and needs? A LOT!!! We have lots of hot mommas come in and claim a day for just themselves, feeling like this is the ultimate luxury. And we LOVE spoiling you!! Repeat after me: SELF-CARE IS NOT SELFISH. Do it again. Rinse. Repeat. You deserve to take time to recharge and care for yourself. You are not defined by the roles you play for everyone else. You are your own person that deserves to be recognized and seen. Our entire self-love journey is bound to teach your mind that making time for yourself is a possibility and necessity. You cannot fill others' cups if yours is empty! Taking care of yourself makes you better for those who count on you in life.
Myth #6: I don't have anything to wear or I'm not a lingerie kind of gal.
If you showed up at our boudoir studio in Kalamazoo with nothing at all, we could photograph you in the sheets for your entire session! 😉 I am serious though… it really doesn't take much to make it happen. The focus is on YOU. Wardrobe is just there to make you feel comfortable and good. In all reality this is a basic list of what outfits comprise a session:
1. A good supportive bra and panty set (cheeky, not a thong!) that fits well. Add a robe for layers!
2. Bed sheets—hey, we've got those and got lots of different colors to choose from!
3. A pair of jeans you could pair with a chunky sweater, a tank/band tee, bra, or topless.
4. An outfit or dress for a timeless portrait (hey, why not?!)
5. A pair of sexy shoes
Check out this great article or this one or this one! with ideas of items you can find in your closet without even going shopping!
Still feeling stuck? We also have extra options in the Studio Closet with bonus options like body jewelry and a luxurious red robe.
Myth #7: I don't have a significant other to do this for or my spouse doesn't see the value in it. Often it seems that those who do this for themselves have a more expansive experience because they're focusing on themselves for the first time in a really long time. And even those who are doing it as a gift for someone else discover that it's actually MORE of a gift for themselves! And for the possible spouse conflict…communicate how important this is to you in reigniting that spark within you and building confidence (or whatever your reasons are!). Have a discussion with them, be straightforward about WHY you want to do this, and explain that what we do here is an in-depth self-love journey that results in amazing photos that will ground you and make you feel all that you are! Get them invested in the process so that they can celebrate your progress and transformation, AND experience that from your loving partners' point of view. We love those cheerleaders!Check out this article with lots of GREAT reasons to do a boudoir session in Kalamazoo.
Myth #8: I don't know how to be sexy.
No one thinks that they do LOL. You don't have to worry about a thing!! It's MY job to create great photos. You just need to show up with an open mind and heart for the journey. I'll be there every step of the way coaching you for breathing, body language, and facial expressions. You'll walk away at the end of the day feeling empowered and ready to dig into your new bag of tricks to practice these moves in every day life. Oh, you just wait and see!! You're going to surprise yourself a bit and go from, "I can't do that" to "OMG! I'm F&**ing HOT!!!"
Myth #9: What will others think about me doing this? Is boudoir porn??
Oh jeez, NO NO NO. This is beautiful intimate artwork of you and the essence of your being. There is nothing shameful or silly about your sensuality, sexuality, or womanhood! This is the judgement-free zone and we will support you in all the ways possible to make this an empowering and confidence-building experience. We also discuss boundaries on numerous occasions because we would never want you to do something you didn't feel comfortable with! To be frank, people often project their fears and insecurities on others who they see as being brave enough to do something like this! So, basically, you're a pioneer and trendsetter that will be changing the minds of others and empowering THEM to be brave and beautiful too. Click here to read all about the history of Boudoir photography.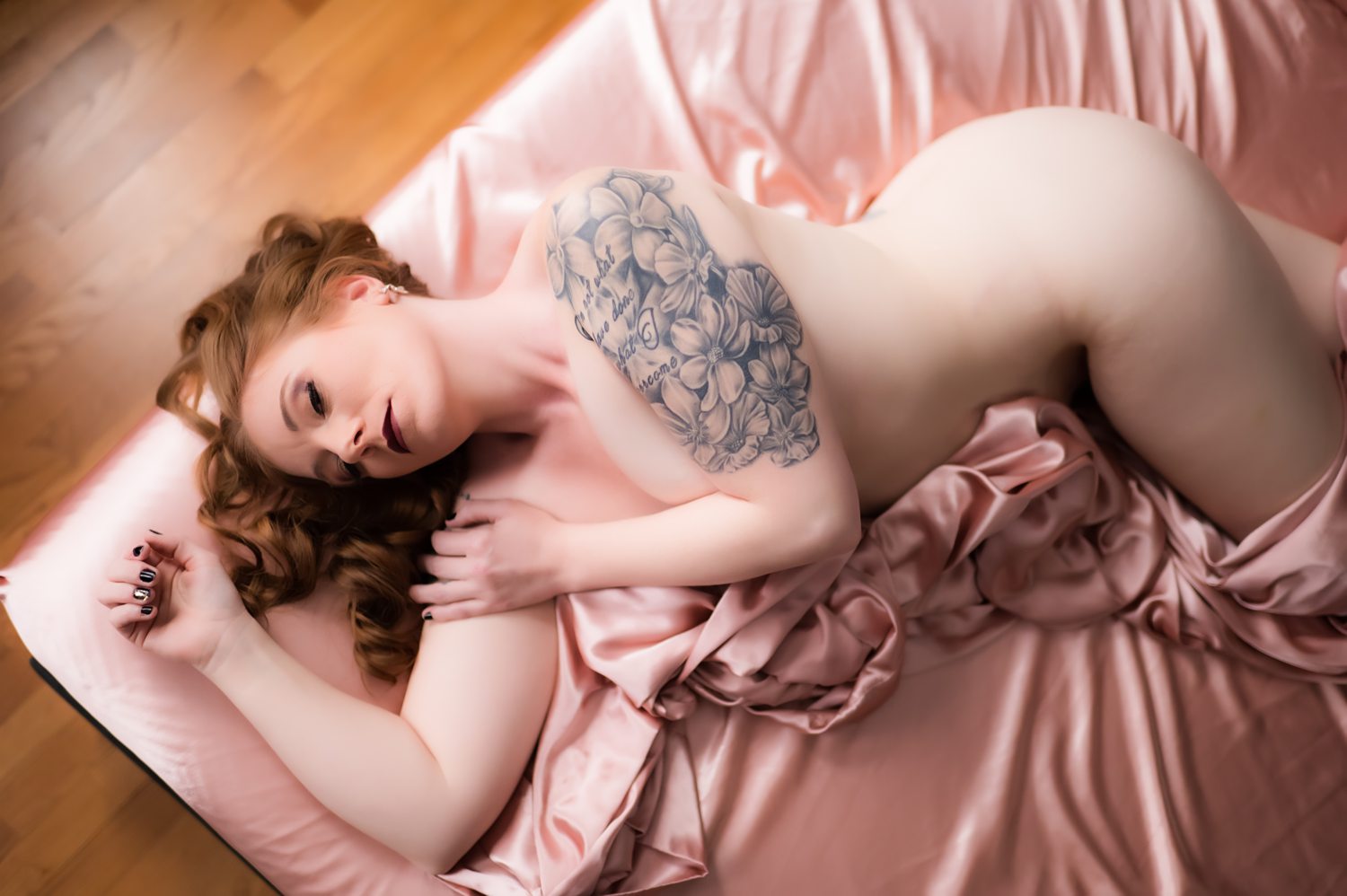 Myth #10: I don't know what to do with my hair and I don't normally wear makeup.
We are thrilled to have our talented hair and makeup professional spoil you before we event step into the studio for your boudoir session in Kalamazoo, Michigan. She's amazing! It is the best thing for getting you in the mood for your YOU time and it's SO relaxing to be pampered like this. Our clients love hanging out and chatting with her. She's also been photographed by Betsy several times, so she has great insight about what it's like to be in front of the camera. It's so fun to see your transformation and your reaction to your glammed up look. It's a favorite moment of the day!
Myth #11: I have to get naked for a boudoir session.
NOPE! We get asked if you have to go nude for your session. We're here it reinforce that it's never required to don your birthday suit at your boudoir session in Kalamazoo. You always have full agency of your body here. ALWAYS. I've photographed thousands of fully clothed people over my 17 years in photography. But if you're thinking you might be ready for it, here are a few fringe benefits of getting naked for your photos.
1. It helps you deeply connect with your body.
2. You will have a certain strut in your step that is paired with a confidence no one can touch!
3. You will feel like you can do anything at all after this.
4. It can truly shift the way you see your body with a whole new appreciation for yourself
5. You'll have beautiful portraits that prove you are a work of art!
Want to learn more about what we do here at our boudoir studio in Kalamazoo, Michigan?
Click here to read more.