What to Wear for Maternity Boudoir Photos
Connect with yourself & your body before the baby arrives with maternity boudoir photos
I love it when women come to me to capture themselves at every stage of life. One unique and special time is during their pregnancy—whether it's your first or your third!
Doing maternity boudoir pictures is a great way to get connected with yourself and your body before the little one arrives. I promise this will help you feel more comfortable in your skin! You'll be ready to strut those curves and beautiful baby bump around, mama!
Moms-to-be can get a little overwhelmed with where to start with clothing options for their maternity portrait session.
I'm here to help with a few general tips and some specific suggestions!
In general...
• Keep it simple
• Form-fitting to hug curves and the bump are best
• Flowing, sheers, peek-a-boo options work great
A great sexy rocking set of a bra and panties is a good foundation for it all. Yes, these DO actually exist!!
Mommylicious
Lukalulu has lots of pretty Boho maternity dresses and sheer robes that are swoon-worthy!
A bohemian crocheted poncho or shawl is fun too. Sometimes you can even find stuff like that on Amazon!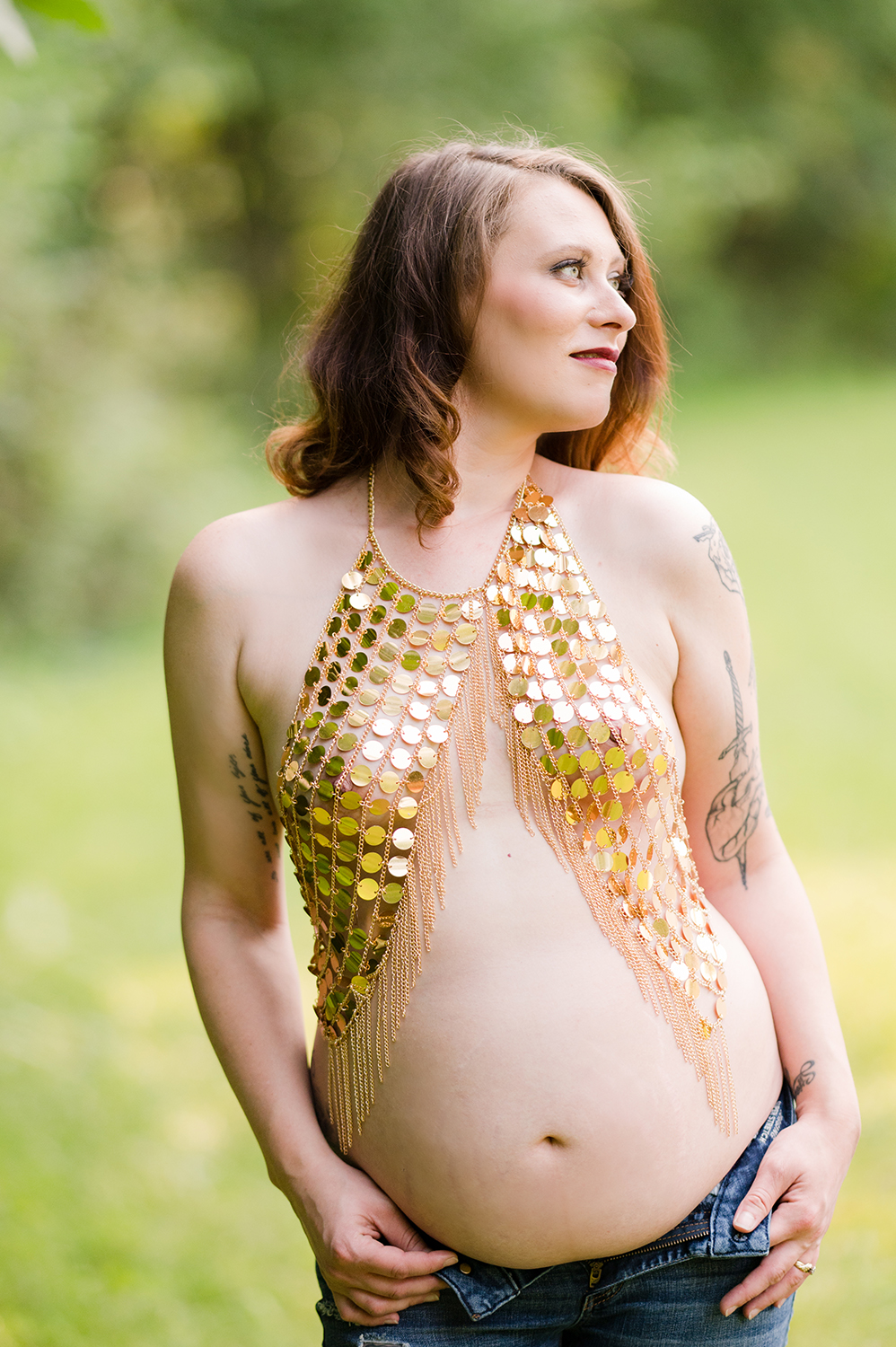 Here are some luxe Belly Baby Wear items custom-made for maternity and newborn shoots that photograph well. Bodysuits are a chic minimalist way to go that put emphasis on the belly without as much skin showing.
Normally, I don't support baby dolls for boudoir shoots, but they can be great for maternity since they allow extra space for the baby bump. Be sure to check out these winners in the Shein Maternity Line. They work well with a nice matching, supportive bra & panty set (always a winner!).
Don't go hiding that gorgeous goddess!
Lots of options out there, but I hope this helps give you a little bit of a head start in exploring sexy maternity photo options. You can be pregnant and sexy, ladies. This ain't your mama's version of maternity pictures! We are gonna let you rock that baby bump, those curves, and the beautiful energy of this amazing time in your life.
There are also unique robes with a sheer artistic quality to be found on Etsy:
Try this one or this one!
A black or rich colored stretchy tube dress (with or without sleeves!) is a classic sexy look. Sometimes you can even find these at target or on amazon.
Shein:
Full-Sleeve Body-Con with side slit
One-shouldered Body-Con
Strapless tube dress Body-Con
And a few other outside the box ideas... (I have all these available in my boudoir studio in Grand Rapids)
• Sheers panels are great...I have a burgundy one.
• Sheets
• Scarves
• Your birthday suit!
And I have a big fancy red tulle robe that is an add-on option. Lots of people love it! The add-on fee is waived when package is pre-paid at least a month before your session. LMK if you'd like more information on that.
Just remember, this ain't your mama's version of maternity pictures. We are going to let that glow SHINE!!