Why You Should Book a Boudoir Session Even if You're Not a 'Girly Girl'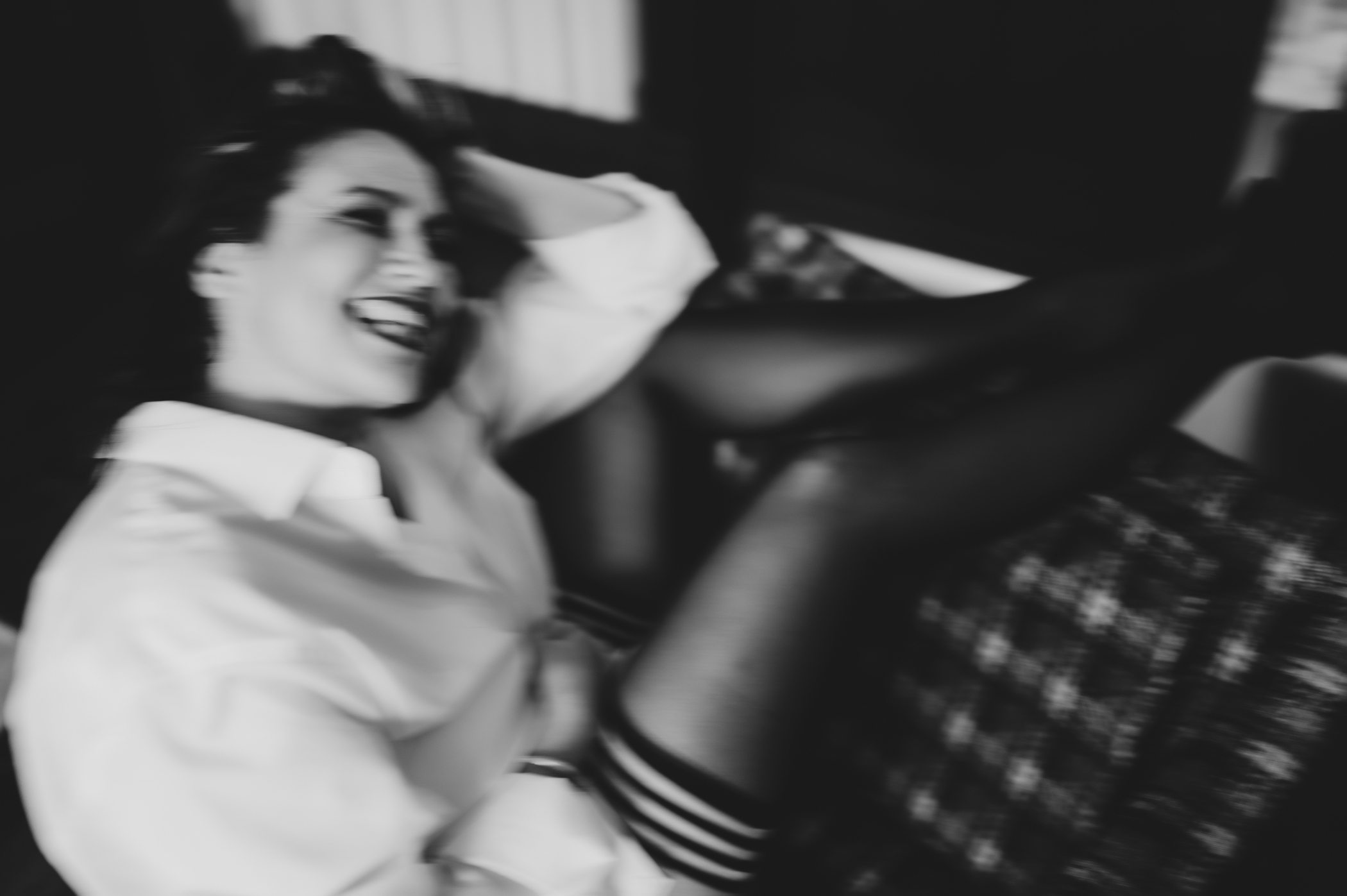 A woman reached out to me recently to inquire about booking a GRIT&GRACE boudoir session. During our chat, I could sense a hesitancy. I could tell she wanted to say YES and schedule right then and there, but that something was holding her back. So I asked and she revealed that she's "not really the type of gal to do something like this."

The type?

When I look back over my portfolio of Boudoir clients, I'd be hard-pressed to fit any of them into a mold. Some are young and their youthful energy transcends their photos. Some are older and their wrinkles tell the stories of their strength. Some look like models and their galleries could be featured in a magazine. Some have bodies that have borne children, overcome illnesses, and weathered time. Some are the cultural ideal of femininity and live for lacy lingerie...

And some are self-proclaimed tomboys who are more comfortable in jeans and a sweatshirt than in a dress.

Like this client. So there it was. She assumed that because she'd opt for cotton boyshort undies instead of sexy panties or do her hair and makeup everyday, that she wasn't cut out for a Boudoir session.

Well, I'm here to tell you that BOUDOIR IS FOR EVERYONE. This experience is about so much more than looking pretty in photos. I'm here to tell you that even if you're not a 'girly girl', you ARE the type to do a boudoir session.
A Boudoir session is an opportunity to celebrate you as you are.
The boudoir experience is not about achieving an end in which you look like a pin-up doll—it's about capturing your beauty and power as it is right at this very moment in time. When you book a shoot with me at our boudoir studio in Kalamazoo, I will interview you and assign homework that I use as a roadmap for our journey together. This unearths the parts of you that you want to highlight in your photos—and I'm not talking about your best side or angle. I'm talking about the parts of your core being that will show people who YOU ARE in your photos.
Of course, I'll work my photographer wizardry with your photos, but I rarely retouch them because your raw, real beauty is lovelier than anything Photoshop can do. Lighting, posing, and angles are where the REAL magic is as we use those tools to showcase your best YOU.

I never expect you to be anything that you are not.
This session is a chance to play with your style and take risks, but risks that help you feel more comfortable in your own skin. Some of my clients are most confident in a body-conscious dress while others swore off dresses and heels years ago. They're both still sexy, powerful women. One of my favorite session outfits was layers and layers of tulle paired with combat boots. I mean, talk about GRIT&GRACE!
Boudoir is the ultimate act of self-love and everyone deserves that.
So many women think that Boudoir is all about their partner. While it can be one of the most personal and thoughtful gifts, Boudoir should be more about YOU. Your relationship with yourself is the most important and longest lasting one of your life—do the work to foster that relationship.
Wherever your life journey has taken you, it has led you to this point. Maybe you're overcoming body image issues, going through a divorce, or lost track of who you are. Or maybe you're celebrating an achievement, commemorating a milestone, or hell, just doing this because you WANT to. Whatever the reason, set aside your expectations of the type of woman who does a Boudoir session and give yourself this gift that keeps on giving. It truly is a life-changing experience.
So you're not girly. SO WHAT?! A Boudoir session isn't about being girly—it's about empowering yourself to feel comfortable and confident in your body as it is right now. In all my years, I've never heard a woman say she regretted this experience.
Are you ready to discover the GRIT&GRACE inside of you? Let's schedule some time to talk.
(619) 857-3717