How to Feature and Showcase Boudoir Photos
Whether you're still planning for a shoot or you've just experienced the thrill of boudoir photography, choosing how to display the images is the next fun part. You will look amazing in the pictures, so we're sharing different ways on how to feature and showcase boudoir photos.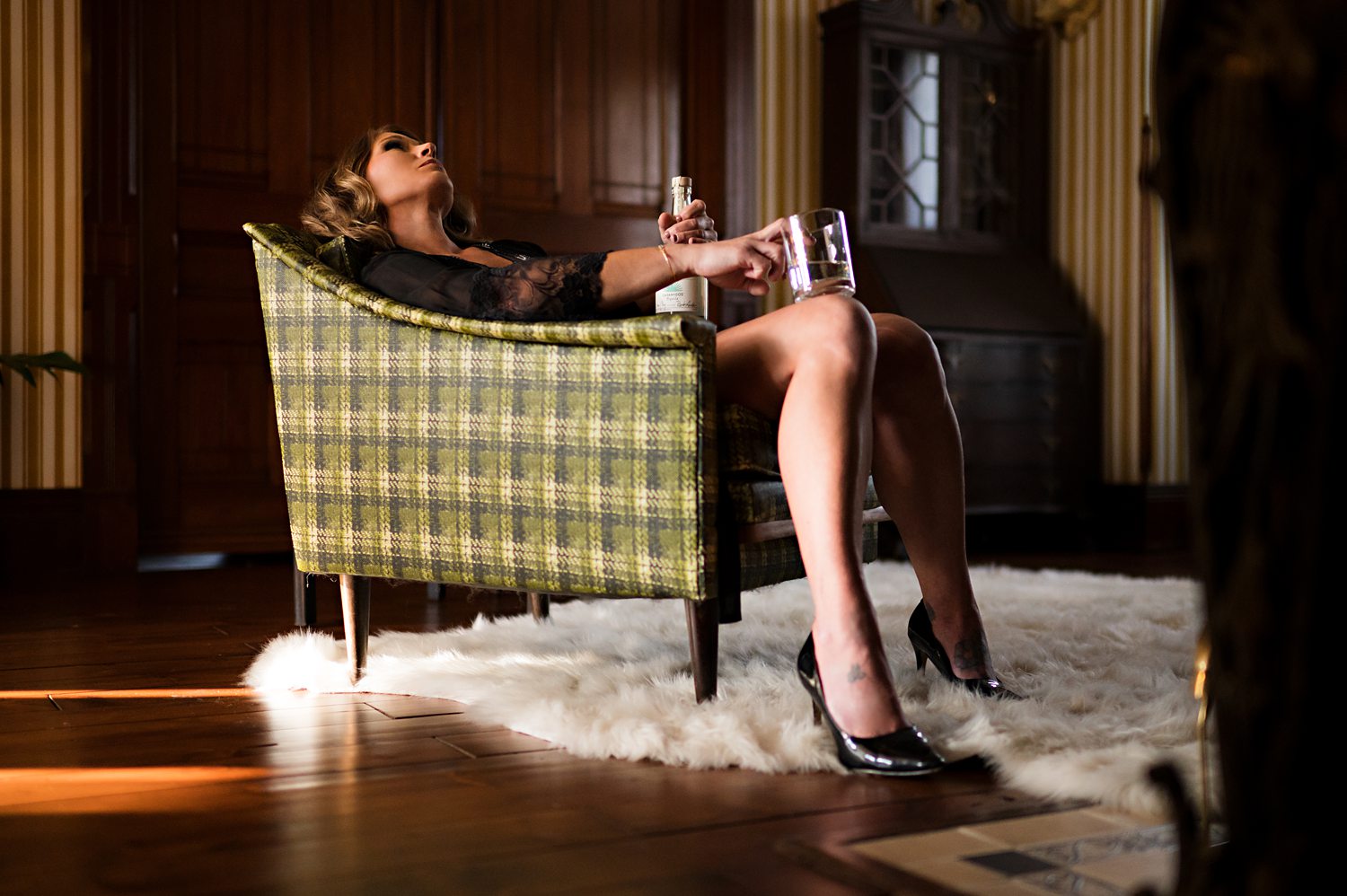 How to Feature and Showcase Boudoir Photos
You can feature and display your boudoir photos in albums, wall prints, digital presentations, folio boxes, and novelty items. You may consider large or small prints, photo books, frames, photo tiles, and canvasses. Another good idea is to use the images on something quirky, like a pillow, magnet, or calendar.
When choosing a boudoir photographer, you must pick a studio that offers printing services. These are our favorite creative ways to show off boudoir pictures to help you decide what to do with your boudoir images after your shoot in my Kalamazoo studio.
Design a Boudoir Album or Photo Book
The study of haptics, which involves a person's perception of objects through touch, shows that you can have a more significant emotional response and recall of things you can feel. This is particularly true for objects with prominent weight and texture, like old-school albums, scrapbooks, and photo books.
Photo album: Placing prints in an album is among the easiest methods to display your boudoir photos. This allows you to sit back, sift through the pages, and feel the satisfying texture of printed pictures.
Photo book: You may also feature your boudoir shots in a photo book if you prefer that the images be directly printed on the pages. It's typically slimmer than a regular album, so this is a good idea if you don't have much space to display your pictures.
Scrapbook: Physical materials feel more real to the brain, allowing you to connect them to memory. For example, the exhilarating moment of doing the boudoir shoot for the first time. If you're a bit artsy, you can design the scrapbook using some stickers, letters, or things you used during the boudoir session.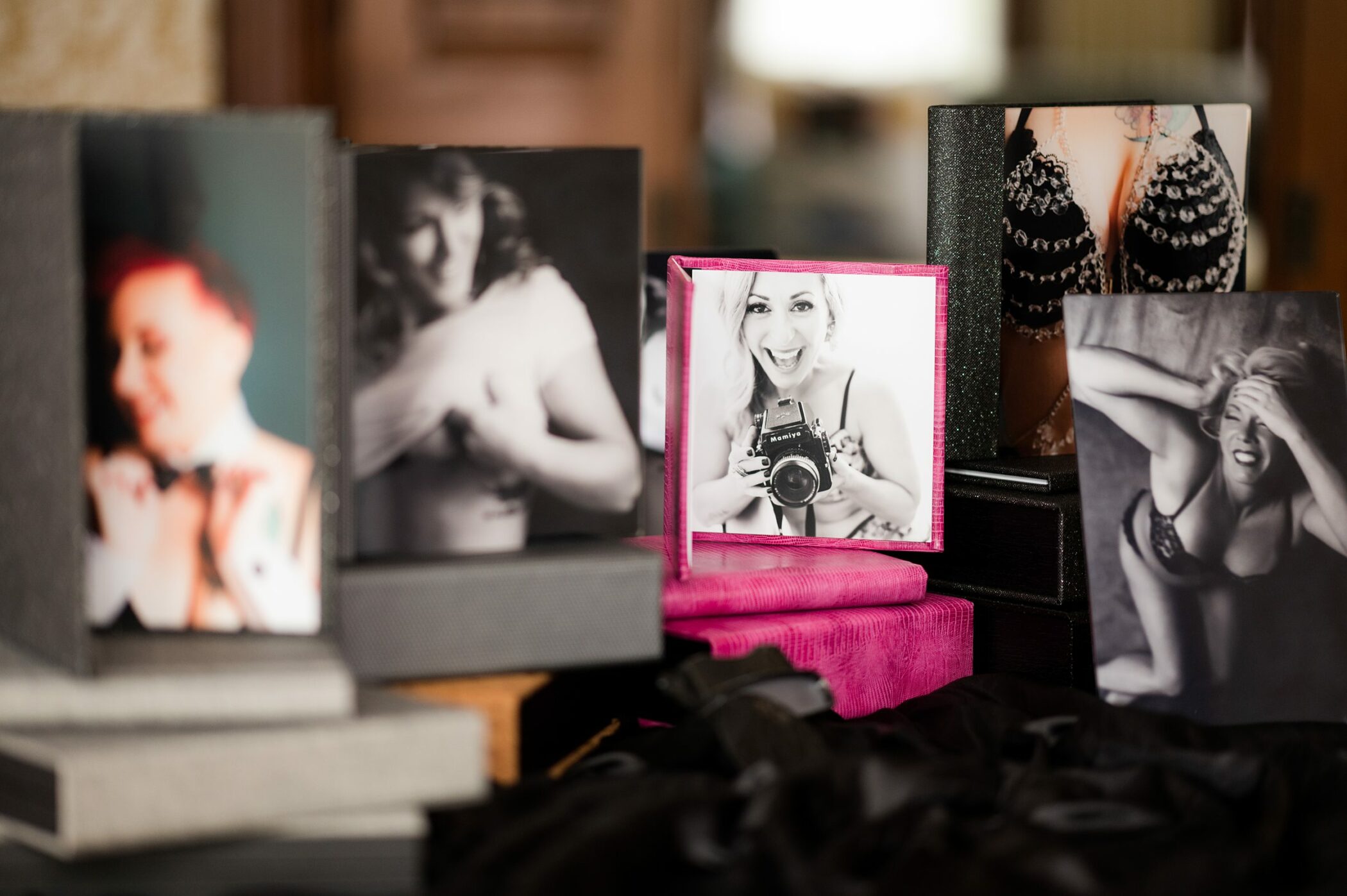 Store in a Folio or Heirloom Box
Storing your boudoir shots in an heirloom or folio box is another great way to feature your photos, especially if you don't want to display big prints.
Folio box: A folio box is a stylish handcrafted box that compiles pictures in premium materials. They look more extravagant than traditional plastic photo albums, perfect for your classy boudoir photoshoot. It can also store a flash drive that contains digital copies of your pictures.
Heirloom box: These boxes are larger than folio boxes and let you keep props from the shoot. In time, you can look back at the time you used a garter belt, dried flowers, or a family necklace to spice up your pictures.
Hang the Pictures on Your Wall
Be proud of your captured moment! Boudoir photography aims to show how proud you are of yourself as an empowered woman. Hang the pictures on your wall to remind yourself that you are beautiful and one of a kind.
Research reveals that using a camera to capture your image instantly improves your confidence levels. This is highly evident in regular selfies, so what more in professionally photographed boudoir portraits for display?
Large format frames: Whether a sleek black metal or a wood frame, large-format boudoir prints make excellent decors.
Small prints: You can also print the photos in smaller sizes like 4x6 or 5x7. This allows you to put up the frames as if you have a gallery wall.
Canvas: If you feel a little intimidated by showing the whole image, you can zoom in on your favorite features, like the collarbone or your hands.
Photo tiles: If you don't want to use a frame or canvas, another option is to get custom-printed photo tiles. These are stick-on tiles that you can easily move without damaging your walls.
Create a Digital Presentation
Add more life to your boudoir photographs by complimenting them with some effects and music. You can also feature your photos in custom slideshows or videos. Depending on your shoot, you may also incorporate some steamy video clips for a more immersive experience.
Transform the Photos Into Novelty Items
There are many opportunities to give yourself simple yet meaningful gifts. As yourself: what can I give myself right now? There are several reasons to do a boudoir photoshoot, such as the chance to wear new clothes and receive quality photos.
Why limit yourself to traditional ways to display photos? You can turn your boudoir pictures into novelty items that make the perfect gift for yourself or your partner.
Spotify plaque: This popular personalized item lets you put the boudoir shots in acrylic glass with a song's Spotify QR code. This is a great way to showcase your photos on your bedside table.
Dirty Magazine: Can't think of a "something naughty" gift for your partner? We can create your very own personalized magazine with steamy boudoir portraits printed in it!
Photo magnets: You'll have a ton of poses from the shoot, so take advantage of your various angles by printing them as miniature photo magnets. Hide them somewhere fun!
Calendar: Personalize a calendar with an intimate and empowered photo of you each month. Remind yourself every month how fantastic you are.
Related Questions
Is It OK to Post Boudoir Photos on Social Media?
It's OK to upload boudoir pictures on social media only if you feel comfortable doing it. These are your pictures, so you should be able to do what you want with them. Trust us — you'll be getting lots of compliments and maybe inspire others to book a shoot as well.
Where Should I Display My Boudoir Prints and Albums?
You can display your boudoir prints and albums in your bedroom, bathroom, and even the living room. Whether you want something artistic, abstract, sensual, or conservative, we can customize the prints to meet your home's theme and make them work in various parts of the house.
Conclusion
You should appreciate and enjoy your boudoir pictures. With these creative ideas, you can display your boudoir photos beautifully. After choosing the best time of the year for boudoir photography in Michigan, you can decide how you want to feature your images.