What to Bring to a Boudoir Photoshoot
Are you anxious about what to pack for your boudoir session? There are essential things that can make your boudoir photos more beautiful. I'm going to cover what to bring to a boudoir photoshoot so you can come to the studio more prepared and feel excited about it all!
What to Bring to a Boudoir Photoshoot
When doing a boudoir shoot, make sure to bring a selection of outfits. These can include lingerie, bridal pieces, or something personal. You also need to pack shoes, stockings, and accessories. Body care items (like your favorite lotion and deodorant), water, and light snacks can also help you throughout the session.
Aside from these things, bringing your excitement and unique personality will make you shine in the boudoir pictures. Use this as a basic checklist to ensure you don't forget anything so you can focus on loving yourself during the session.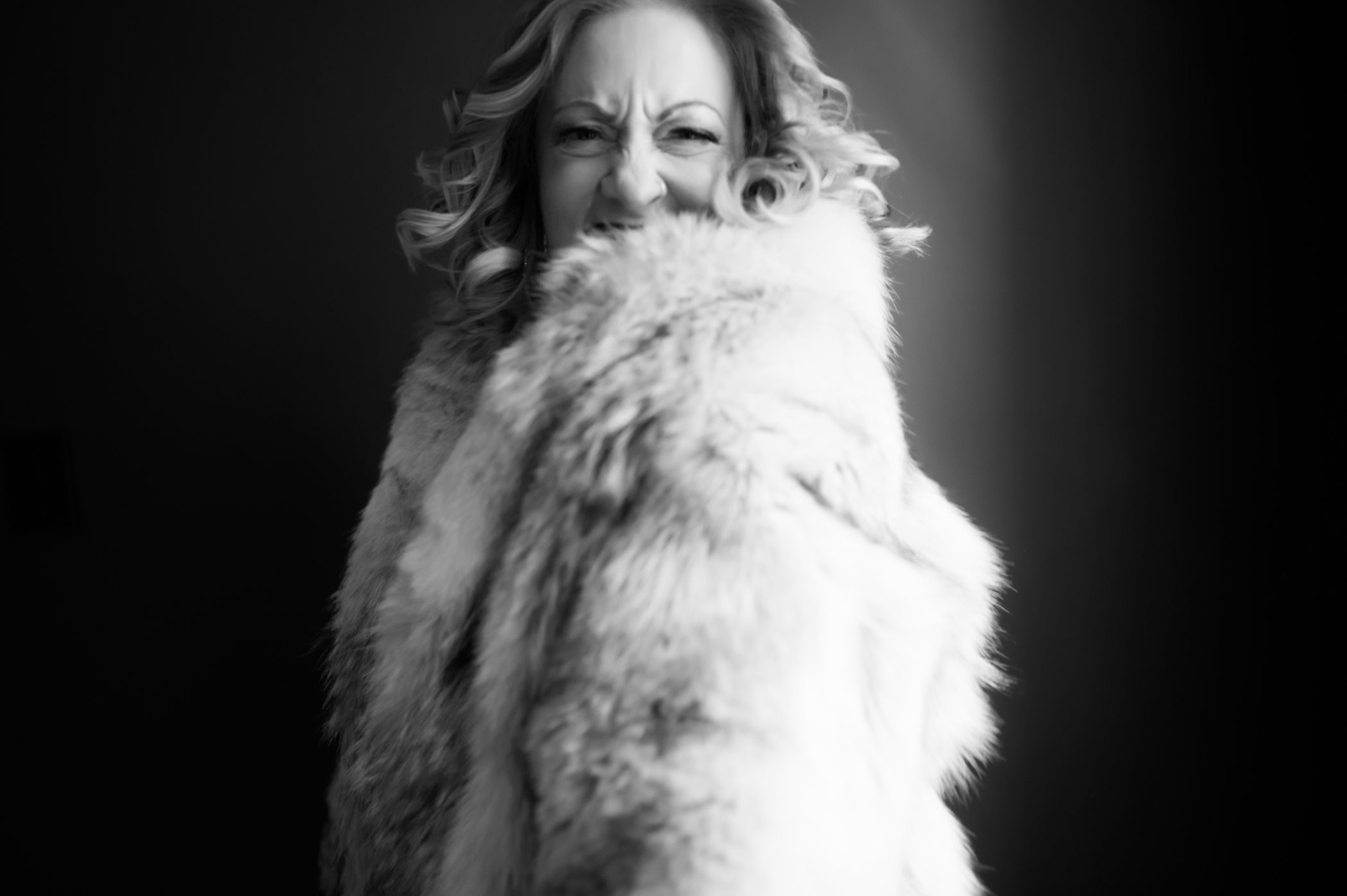 Selection of Boudoir Outfits
It can sometimes be challenging to narrow down what clothes to bring. During the planning session, we will guide you in choosing what to wear to a boudoir photography session.
When packing clothes for a boudoir shoot in Kalamazoo, consider a range of colors, textures, and styles. However, make sure that the clothes don't take away from the center of attention (that's YOU!!), as it's important that your face and personality shine the most.
Lingerie: Bring something that you feel comfortable wearing, whether you want a light floral piece that gives off sweet flirty vibes or cheeky red lingerie that oozes sex appeal. Lingerie should frame your body in the way you want so that it highlights your curves or your favorite features. Make sure it's not too fussy or ill-fitting as if you are uncomfortable in a piece, it translates in photos.
Loose-fitting items: The beauty of a boudoir shoot is that it's not all about wearing tight-fitting clothes. Cozy cardigans, vintage slips, see-through tops, and oversized shirts can also make you look stylish yet sexy. Layers are FUN…we can spend time peeling back the layers of the onion!
A good-fitting supportive bra & underwear set: While you can have fun with different pieces, we always recommend bringing along a bra & panty set with complementary textures and colors. An embroidered push-up bra paired with cheeky underwear is great for both cleavage and booty shots!
A bralette can be cute in the mix, but don't bring too many pieces that don't offer support for the girls. 🙂
Long-sleeved clothes: Some ladies want to show minimal skin yet radiate sexiness and intimacy. A great example would be an off-shoulder long-sleeved sweater that subtly shows skin while being modest. Long-sleeve sheer or mesh shirts are also great! Pair them with a contrasting bra underneath for drama.
Bridal pieces: There are many reasons why you should do a boudoir shoot, including maximizing your bridal items before packing them away. We can use a veil, tiara, wedding robe, or honeymoon lingerie for some surprise teasing photos before the big day!
For men, you can use well-fitting jeans, boxer-briefs, tank tops, a couple of plain-colored shirts, and button-up shirts for a variety of shots. Don't forget that ladies can wear these clothes too!
High-Heeled Shoes
Bringing the right shoes can take any boudoir outfit next level. Nothing screams SEXY more than a pair of killer high heels. High-heeled shoes, especially stilettos, can highlight your bottom and elongate your legs.
Try to avoid wedges or platform shoes, as chunkier styles may be too distracting. Additionally, be sure that the shoes don't have scuffed soles, as these parts can show in certain poses.
Accessories and Props
There are certain accessories that can make you feel like a million dollars and truly like a vixen! My studio offers several standard boudoir props like mirrors, satin linens, pillows, scarves, sheer fabrics, masks, and more.
However, one of the great things about boudoir photography is that you can let your imagination go wild and bring your own statement pieces to a boudoir session.
Waist enhancers: Corsets, bustiers, and suspender belts are excellent waist enhancers that can flaunt your curves.
Robes: Robes are among the best props for a boudoir session because they can be fun to play with, whether you want to cover or reveal something.
Jewelry: Jewelry goes well with lace outfits or naked poses. You can use your wedding ring, heirloom necklace, or even just your favorite bracelet.
Stockings: Besides high-heeled shoes, stockings can elongate and accentuate the legs. Fishnet stockings can achieve a pin-up boudoir aesthetic, whereas printed stockings may add a playful vibe to the mood. If you can find them, ones WITHOUT the elastic at the top, paired with a garter belt or a corset with stocking fasteners are choice!
Hats: Hats can put a vibrant yet stylish effect on boudoir photos. For instance, use a cloche for a vintage look or a wide floppy hat for a mysterious feel.
Something Personal
If you're using the boudoir images as a gift for your partner, you may want to include something personal for you both. For example, it can be your first couple pajama set or your partner's favorite dress shirt.
Perhaps it's your first dress that celebrates your coming-out day. It can be anything that reminds you of something sentimental in your life. Personal items can make an emotional connection when viewing the pictures years from now. What would you bring??
Makeup and Hairstyling Accessories
My boudoir photography package includes professional hair and makeup services. However, you may have particular makeup and hairstyling accessories you would like to add to emphasize your features. If so, please consult our hair and makeup professional for advice.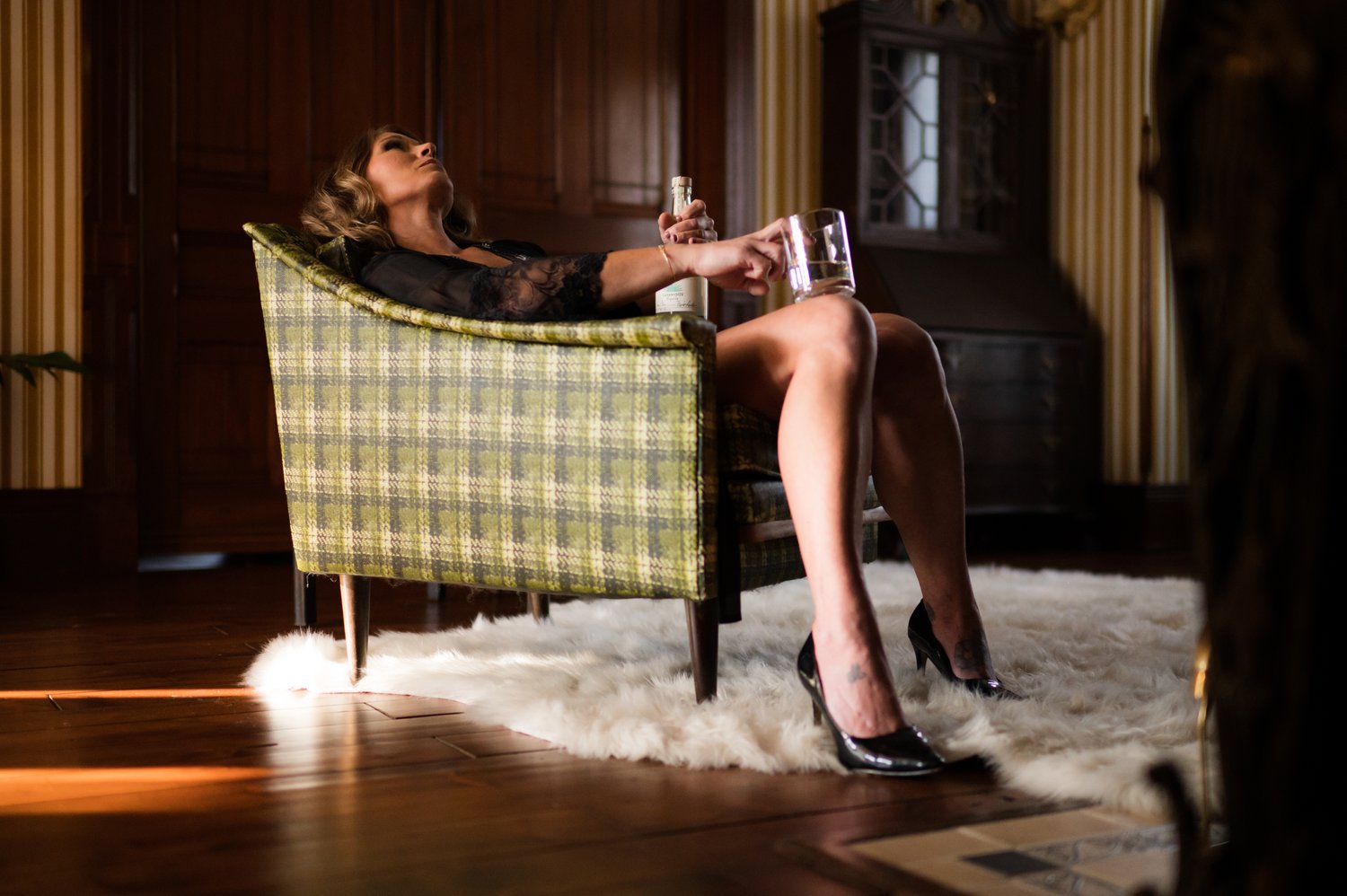 Water and Light Snacks
Hair and makeup preparation may take about an hour to an hour and a half, while the actual boudoir shoot typically lasts for two to four hours. Within this period, you get a little hungry. We have snacks on hand like trail mix and nut bars for quick protein fixes, but if you have a special diet, please be sure to bring those things that will keep you focused and energized.
Some clients fast before the session to avoid a bloated look. We do NOT recommend this! This can make you feel lightheaded and tired. You'll be surprised at how physical the day can be.
We typically take little breaks during the shoot. Feel free to bring your own light snacks like a granola bar or apple chips. Additionally, be sure to drink LOTS of water to hydrate and feel relaxed.
Most importantly, EAT BREAKFAST!! You will need that fuel for the day. Some people skip it because they think they'll look bloated for their shoot. This is simply not true and we need you feeling energized and ready to go the day of the shoot!
An Open Mind
Posing in front of the camera for your first session can be pretty daunting. While this isn't a tangible thing, bringing an open mind can make a boudoir shoot much more successful. As a professional boudoir photographer, I'm here to guide you throughout the shoot.
I'll ensure you're comfortable every step of the way so you can make the most of your shoot. Having a positive attitude and open mind can increase your confidence, which will show in your captivating images.
Conclusion
Going to a boudoir shoot can be nerve-wracking at first. Make sure to bring a selection of outfits, comfortable shoes, props, hair and makeup touchup accessories, and other personal items that will help you feel empowered. Use this checklist of the things to bring to a boudoir shoot to prepare.