What Can I Expect From a Boudoir Photo Shoot?
Does planning a boudoir shoot make you feel nervous? Are you thinking, "What can I expect from a boudoir photo shoot?" I'm going to give you a first-hand glimpse of what happens in a boudoir session, so you can convert that nervous energy into excitement and feel pumped up while being at ease.
What Can I Expect from a Boudoir Photo Shoot?
In your boudoir photo shoot, expect a safe place to explore your sexuality, sensuality, and inner goddess. You can pamper yourself through wardrobe selection, hair, and makeup. I'm also going to give you lots of posing coaching and tips so your photos will reflect the real you in the best ways possible. The bonus is that you'll go forward feeling much more connected with yourself and your body!
Whether you're itching to send a booking form or setting up a Pinterest board, those mixed feelings of nervousness and excitement is totally normal. So, I'm here to share what really happens in a boudoir shoot in Grand Rapids, Michigan to help you prepare mentally, emotionally, and logistically for the big event!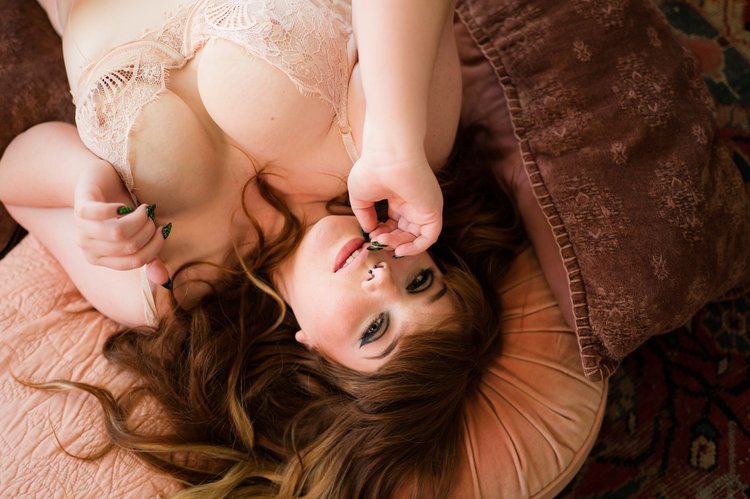 Wardrobe Selection
Your outfits will set the tone of your images, which is why it's important to consider what to wear to a boudoir photography session. But DON'T STRESS! This is one of the biggest things people get anxious about, but we will share many different ways to pick a boudoir outfit. We love making our boudoir clients feel like supermodels!
Wardrobe selection can be one of the most exciting parts of a boudoir session if you think outside the box and let yourself think a little differently. Part of the fun can be to dress up or wear clothes you may not typically use.
But one of the most important points is that clothes should reflect your personality so that you wear them with confidence (pro tip: this shows through in the images!). And guess what? You don't have to wear skimpy or sultry outfits the entire time. We've had many clients wear everyday clothes that can include sweaters or dresses, and they totally rocked it!
Safe Space to Pamper Yourself
If you're still wondering about the best time of the year to do a boudoir session, think about the last time you pampered yourself. Do you miss chilling out with a good book and cup of tea? Maybe you would like to glam up and try a new hairstyle? What are the things that make you feel GOOD?What are the things in life that help you connect with yourself?
Experience rockstar treatment with our professional hair and makeup services. Whether you prefer glammed up runway or more natural makeup, we always highly consider your input on how you want to look. We will offer our expert opinion on styling, yet the final word always comes from you. 🙂
Due to the time involved, we typically do a light hair styling for the shoot that consists of loose sexy curls. If you have other thoughts, we always recommend consulting our professional stylist beforehand. Additional services may be available, depending on her schedule. If you prefer to wear your naturally curly hair straight and sleek, we recommend getting a blowout in the days leading up your shoot.
Props and accessories like garters, stockings, masks, and jewelry are parts of the styling. They can be a great addition for added variety!
We strive to make our studio a safe space. It's also set up with different vignettes to stage your photos, but the primary focus is on YOU! Love some bubbly? Feel free to bring it along if a little champagne helps you get in the zone.
Lots of Posing Tips
There are various reasons why you may be camera shy. Perhaps it's due to social anxiety, or you are self-conscious of a particular body part. Sometimes, it could be because you don't love being the center of attention.
It's normal to feel shy in front of the camera at first. This is why as a professional boudoir photographer, it's my job to guide you in posing comfortably.
I'll provide many tips and tricks during the planning segment to help you prepare.
I'll coach you throughout the shoot, so don't stress about your poses or facial expressions. That's my job to make the photos happen! The best thing you can do is show up, relax, be present, and be open to the process. You will get to see a few pictures along the way, so always helps people feel better about the journey. Remember, there are no right or wrong answers here…just let yourself cut loose, connect with yourself, and have some fun!!
Are you anxious about doing sexy poses? I'm well-versed in different boudoir poses, so I will coach you through body language that will give us lots of variety in your finished photos. You'll learn all kinds of poses that will make you feel (and look!) drop-dead gorgeous. It may be engaging your hands in fixing your hair, arching your back in a beautiful pose, or even simply sitting on the bed. You'll be surprised at all we do!
You won't spend hours simply smiling into the camera. The goal of a boudoir shoot is to reflect the depth of your character in its many varied facets! So don't be surprised if we do some shots looking serious or facing away from the camera. I love showing you the range of emotions we are made up of as interesting human beings…sexiness, vulnerability, strength and confidence, desire, longing, coy flirtation, and more.
There may be dancing, laughing, or anything that makes you move and feel good doing it. The main idea is to connect with yourself in new ways and walk away feeling amazing!
Be sure to stretch too because there is a surprising amount of movement in boudoir sessions. We could be doing photos that involve leg lifts, arched backs, or torso twists, so some stretching before and after is ALWAYS recommended!
We are thrilled to give you the best Michigan boudoir photography experience! Don't worry too much about striking the perfect pose because this is truly more about body language and breathing, which makes it quite different as you'll be FEELING it all throughout your time with us and beyond! What's vital is that you focus your energy on being comfortable while I'm help direct the ideal poses for your boudoir shoot.
Radical Self-Care and Empowerment
When was the last time you made yourself a priority? What do you do to avoid burnout or fatigue? Taking the time to do things for your physical and psychological wellness is the psychology of self-care.
There are various ways to focus on yourself, and doing a boudoir shoot is one of them.
Expect a boudoir shoot to celebrate the authentic you. Throughout the session, I'll be encouraging you to embrace self-love, so you will appreciate the way you look and feel.
You will learn to love yourself more, even the parts that sometimes make you feel uncomfortable or unlovable at times. This shoot will serve as a stepping stone to help you form self-love habits.
A boudoir session emphasizes your beauty—inside and out.
You may not be confident coming in and that's OKAY! Your boudoir shoot will help you build that within you and by the end of it, you'll be feeling on top of the world.
Quality Photos
Whether you prefer a digital copy or print, I'm thrilled for you to see your pictures! Your boudoir shoot includes a private ordering session a few weeks after your session.
Aside from that, we are happy to accommodate certain photo retouching requests. No judgments!
You can choose to put a steamy collection of monochrome images in an album or select your best shots to display as elegant custom wall art. Whatever you want to do with your photos, it's part of the journey wherein you get to decide what you want for yourself.
Conclusion
Whether it's for a gift or celebrating a milestone, expect that this boudoir session will be ALL about YOU. If you're ready to experience this self-love journey, we're excited to share our skills with you! We will guide you every step of the way, so you will know what to do and what to expect. Our goal is to answer most every question you have before you have it!