What Should a Couple Wear for Boudoir?
A couple's boudoir shoot is an intimate moment between two people, capturing the connection and feelings. Preparing outfits for one person can be challenging, so what more when there are two of you? We're listing what a couple should wear for a boudoir shoot and styling tips to prepare for your shoot.
A couple can wear simple complementary clothes such as lingerie and a bodysuit for women and then boxer briefs for men. You may also consider casual clothes such as tees or button-up shirts with jeans. Another option is to prepare dress-up clothing that shows your personality as a couple.
Couple's boudoir photography focuses on showing the intimacy between lovers. While I'm here to capture your love, you must be comfortable with your clothes. As a professional boudoir photographer, I guide clients to plan boudoir outfitsthat allow them to express their beauty and fierceness.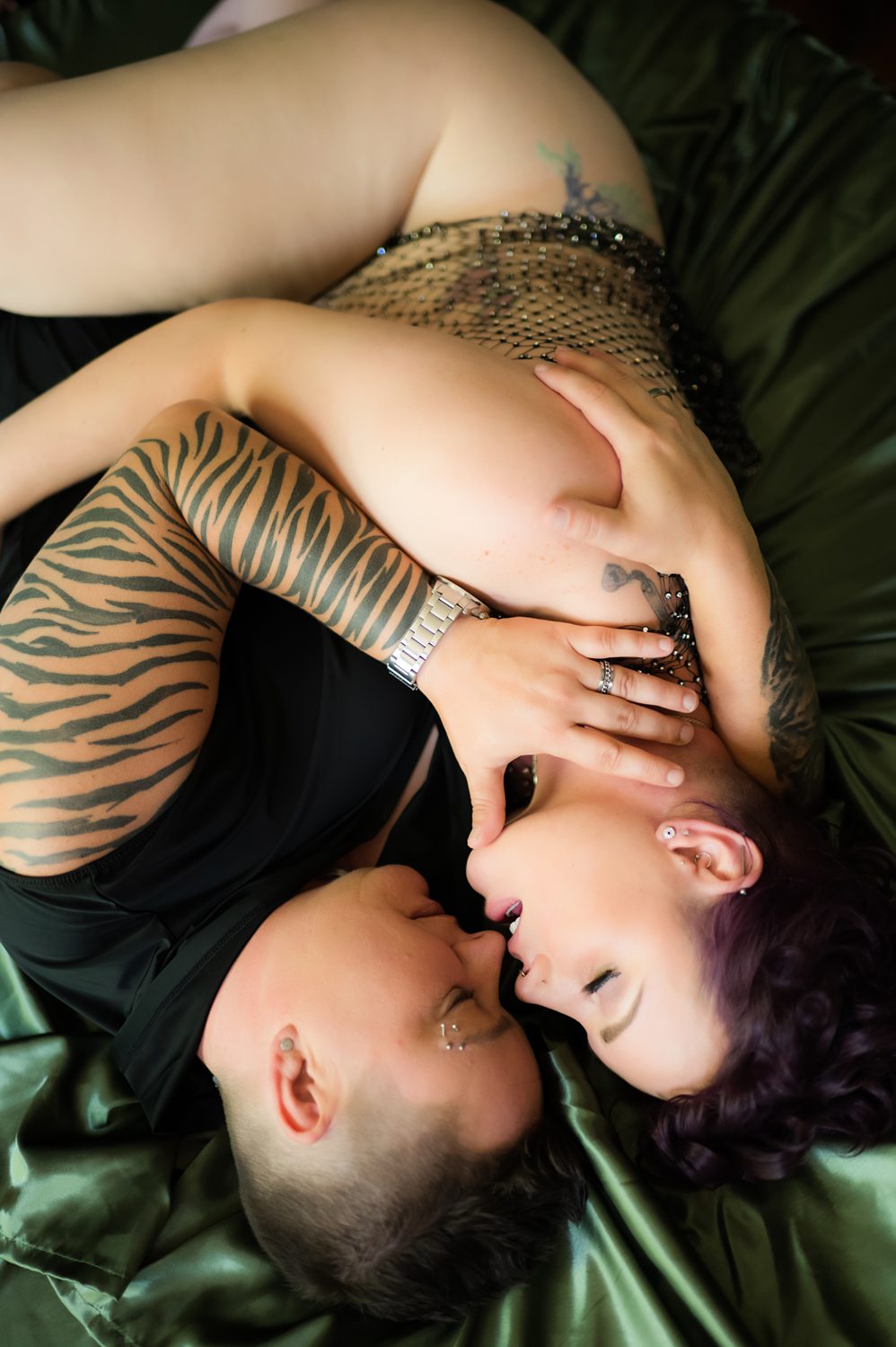 What Are Clothing Options for a Couple's Boudoir Shoot?
The simplest way to style a boudoir wardrobe for couples is to stick with casual clothing or bedroom-specific that you can easily find in your closet. However, you can also glam up using fancy clothes or complementary outfits to tell more of a storyline.
Simple and Casual Clothes
Simplicity is the key for couples to shine in boudoir photos. Closet staples such as shirts or button-up shirts allow you to grip something seductively or undress each other.
While your outfits will add texture and story to your images, the primary focus will be on your intimacy and features. I recommend keeping clothes to a minimum. This will save you time preparing while ensuring your outfits won't outshine your body language and facial expressions.
Complementary Outfits
Complementary outfits should help make couples look photographed as a whole. The clothing styles and colors shouldn't clash. Instead, complimentary accents must help add texture and a bit of color to the scene.
For instance, wear pale blue lingerie while your partner has a white shirt. Another example is that both of you use an off-shoulder sweater paired with lace underwear in contrasting colors.
Fancy Clothes
A boudoir shoot doesn't automatically mean you must wear highly revealing clothing. You can choose whatever theme you like for a session, including wearing fancy clothes. Luxury was boudoir photography's concept in the 1920sand this is a great chance to have a themed shoot.
Men can wear black slacks with only a bow tie (Chippendale's style!) or an unbuttoned white shirt. Meanwhile, the ladies can wear a deep-V or halter dress that highlights the collarbone. You can also pair this outfit with fishnet stockings and heels for a more seductive look.
What Should Men Wear for a Boudoir Photoshoot?
Men typically end up going topless during a boudoir photoshoot, but we love layers of clothing so that we can peel back the layers of the onion. However, shirts, jeans, and boxer briefs are must-have clothing pieces for a couple's boudoir session.
Shirt: A shirt is an underrated clothing choice for a boudoir session, yet it's one of the best things to play with a shirt. You can tug at it or pull it over your head for a seductive pose.
Jeans: Jeans can look incredibly hot on men when styled correctly. You can have a belt to play with or a zipper to strip down for a playful touch.
Boxer briefs: Research shows that tight-fitting garments lead to an increased sense of masculinity compared to baggy clothes that hide our body. Boxer shorts are baggy and won't look flattering, whereas boxer briefs can highlight the buttocks and crotch. Boxer briefs also let you add a bit of a fun pattern or solid color.
What Should Women Wear for a Boudoir Photoshoot?
There are many things women can wear for a couple's boudoir photoshoot. Whether you already have these in your closet or want to shop for new clothes, these are wardrobe essentials for women during a boudoir session.
Bra and panty set: A matching bra and underwear set is a staple among boudoir shoots. You may use a lace bralette or a bustier bra that would highlight your assets. You can pair it with high-waist underwear or cheeky undies (not thongs) that let us get a little peek of the roundness of your booty.
Bodysuit: Bodysuits flatter every body type. This bold clothing can make you look dominating and sultry in your images. We love a bodysuit with support for cleavage.
Silk nightdress: Silk clothes give off the ultimate bedroom vibe for a couple's boudoir shoot. A silk nightdress adds a provocative texture to flatter your skin. Meanwhile, you can play with a silk robe as you tug at its string.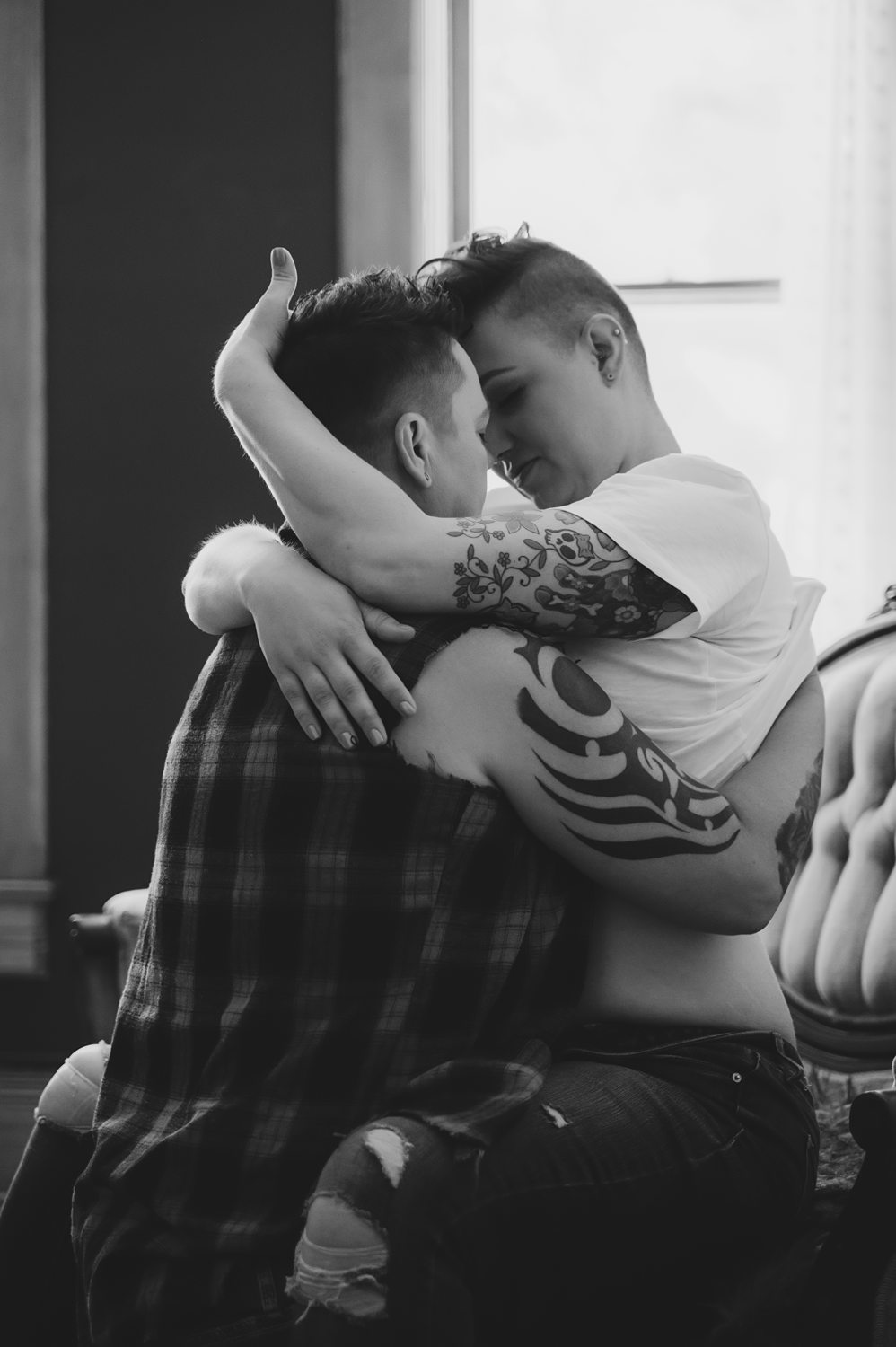 What Should Couples Not Wear in a Boudoir Session?
It's best to avoid wearing completely matching or identical clothes from head to toe. This may work in a family portraits or life documentary, yet it can radiate a different vibe for boudoir photography.
Sexologist and relationship expert Dr. Nikki Goldstein says that harmonious dressing is a subconscious thing among couples. However, what's a cause of concern is when one of you loses your sense of identity by trying to fit in through clothing. We want you to wear things that reflect your personality and sense of style.
Related Questions
Can Couples Get Nude for a Boudoir Shoot?
You may consider going nude for a boudoir photoshoot only if you're comfortable. There's generally no need to get naked, which is why you must plan your outfits well.
What Boudoir Props Go Well With Couple Clothes?
Pillows, blankets, and even petals can make great props for boudoir photography for couples. These give off cozy and romantic vibes, especially if you'll be mainly posing on a bed. We have lots of pillows and blankets in the studio for you. You may also consider masks for a steamy mysterious effect.
Where Is the Best Location for a Couple's Boudoir Session?
A bedroom or studio is the best location for a couple's boudoir session.However, you can also get creative and sensual in the shower, kitchen, or outdoor setting. My boudoir photography studio in Kalamazoo is a safe space for couples to express themselves through pictures freely.
Conclusion
Couples can wear casual or complementary clothing as long as partners are comfortable wearing them. The outfits must help you bring out the love, intimacy, and sensuality between you two. I hope this couple's boudoir clothing guide can help you create a vision board for your boudoir session.