While boudoir photography has gained popularity recently, some people still feel apprehensive about the idea. Without understanding the concept, you won't fully experience this photography style's uniqueness and have professional portraits to treasure for years.
Since bringing Betsy McCue Pictures to Michigan in 2020, I have helped women of the Mitten capture their most intimate and empowering moments. I'm here to explain everything you need to know about boudoir photography in West Michigan to prepare for your session.
Boudoir Photography in West Michigan
A boudoir photography session in West Michigan involves taking intimate and sensual images that highlight one's beauty and confidence. It's a unique art form allowing women to express themselves and feel more comfortable in their skin. Our region's picturesque landscapes also provide a stunning backdrop for outdoor boudoir sessions, which we do on occasion.
Whether planning a wedding, celebrating a personal achievement, or simply wishing to embrace your beauty, a boudoir photo session is a remarkable way to tell your story and empower yourself.
Understanding West Michigan Boudoir Photography
Since starting my photography journey in the early 2000s, I've seen how boudoir photography is about celebrating and empowering individuals while capturing their beauty and confidence. Whether you're from Kalamazoo, Grand Rapids, or Lansing, Michigan offers a variety of settings for these intimate sessions, from cozy in-home sessions to luxurious studios.
In this region, I can utilize natural light to create magazine-worthy images that highlight your style. My photography style can include the following:
Beautiful lingerie shots
Artistic nude poses
Sensual close-ups
Fun and flirty outfits
Learning the Benefits of Boudoir Photography
I've met many women who feel they are going to shy when having their photos taken. I pride myself on creating a comfortable, judgment-free safe boudoir studio space that allows you to embrace your body and express your personality in all the ways. Our signature boudoir experience provide these benefits to my boudoir photography clients in West Michigan:
A confidence boost
Unique, one-of-a-kind artwork to treasure for years
A memorable gift for yourself or a loved one
Knowing the Reasons to Choose West Michigan for a Boudoir Photoshoot
Michigan is a fantastic place for boudoir photography, with options that cater to various styles and preferences. Here are reasons to choose this area for your boudoir pictures:
The region is home to several skilled boudoir photographers.
From in-home sessions to boutique studio locations, this area in Michigan has you covered. Aside from my studio, I have a list of the best places to take boudoir pictures in Kalamazoo.
Local photographers value professionalism, creativity, and a client-focused approach.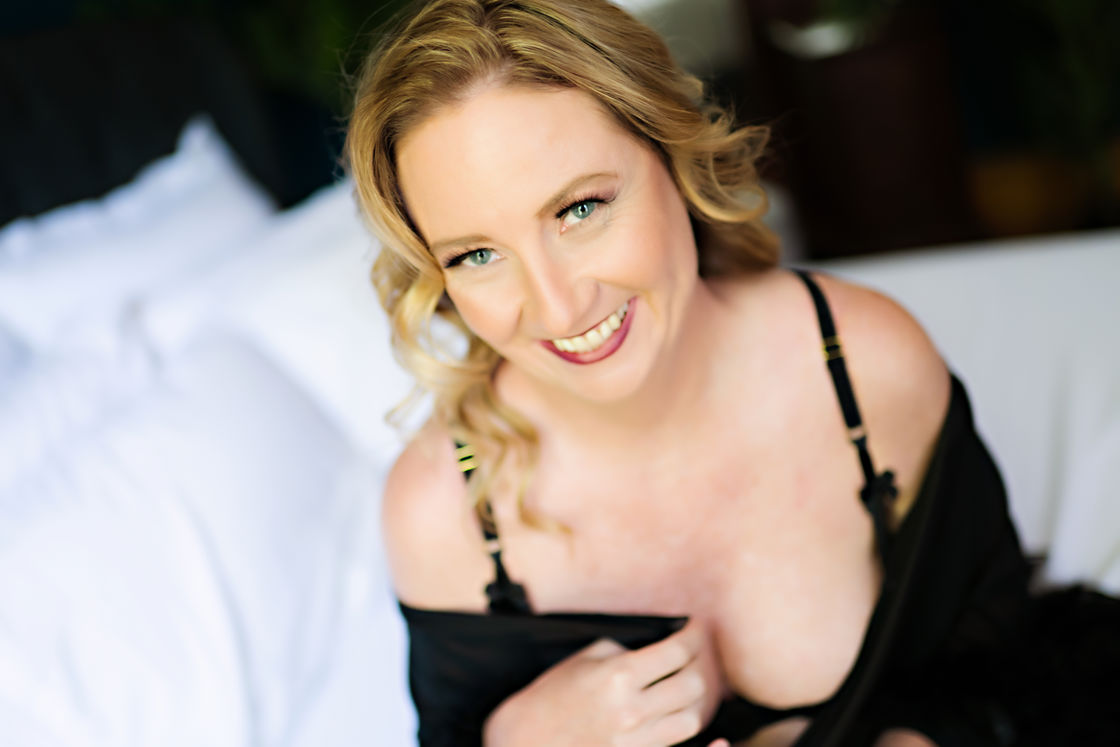 Tips on Finding the Best West Michigan Boudoir Photographer
I've conceptualized, directed, and led countless boudoir photoshoots. I am also professionally trained and published. I can share a few crucial tips to help you find the perfect photographer for your session. When searching for a boudoir photographer in West Michigan, consider the following:
Experience: Look for photographers who have experience specifically in boudoir photography. I've been a professional boudoir photographer for more than two decades. This has allowed me to build unique skills to capture intimate moments while making you feel at ease.
Style: Each photographer has their style, so find one whose work, aesthetic, and approach resonate with you. Also, consider someone willing to collaborate on ideas and concepts. We love to personalize sessions and collaborate with our clients to help you achieve what you want to get out of your own shoot.
Communication: Open communication is essential when working with a boudoir photographer. Choose someone who addresses your concerns and is available for consultation. Get a feel for what we're all about and our personalized approach to each shoot by booking a discovery call with my studio manager who can provide first-hand help on what it's like to prepare for your boudoir session and be in front of my camera. My client LOVE her!
Preparing for a Boudoir Shoot in Western Michigan
I look forward to helping women celebrate their unique beauty and create stunning images you'll cherish forever. These are helpful tips for preparing for boudoir photoshoots.
| | |
| --- | --- |
| Tips | Actions |
| Think of a concept or style | Choose the right theme, such as classic, romantic, or edgy |
| Prepare outfit ideas | Select garments that make you feel amazing, accent with statement pieces |
| Consider hair and makeup | You don't have to look for professional hair and makeup services here—we provide that with every boudoir session |
| Think of the end product | Consider what you want do with these images and how you'd like to enjoy them years from now (print, design an album, etc) |
Deciding on a Style and Concept
When planning a boudoir shoot in West Michigan, it's essential to determine the style and concept that best suits your personality and desired outcome. I have prepared various classic, romantic, or even edgy concepts. Here are a few ideas to help you decide:
Classic: Soft light, delicate fabrics, and timeless poses
Romantic: Flowy outfits, floral accents, and dreamy backdrops
Edgy: Bold colors, leather, and high-contrast lighting
Choosing Wardrobe and Outfits
Selecting the right outfit is crucial for self-image. I've seen clients radiate a glowing area whenever they wear the proper clothing that flatters their bodies and reflects their personal styles. Here are some general tips:
Opt for fitted clothing to accentuate your curves
Choose statement pieces like a luxurious robe
Don't forget shoes and accessories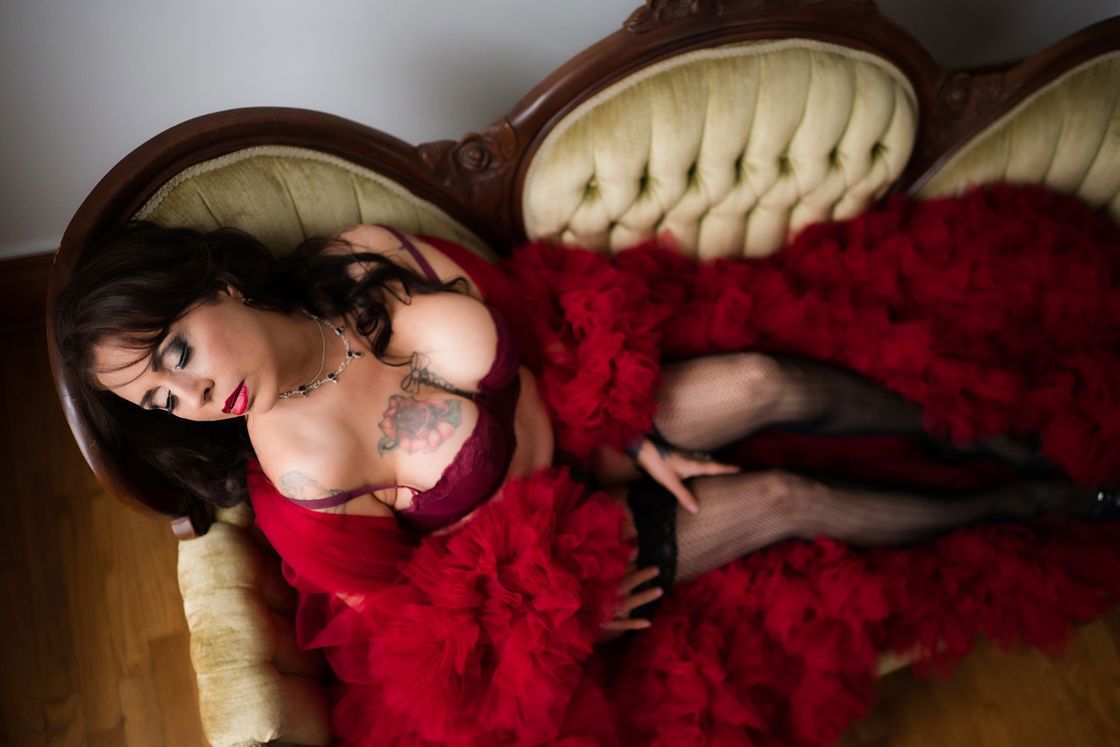 Preparing Hair and Makeup
Booking professional hair and makeup services for a boudoir session gives you a polished look that enhances your natural beauty while boosting confidence.
I offer hair and makeup services as part of my packages. This will make your booking and preparation process even more seamless.
Deciding on Prints
After each session, I carefully select the best images and enhance their beauty. In this way, I create a natural and authentic look while maintaining the unique essence of each client.
Once the editing process is complete, it's time to move on to the prints. I believe every client deserves high-quality prints showcasing their beauty and confidence. I let clients choose different ways to feature and showcase their boudoir photos.
Fine art albums
Wall art
Digital files
Viewmaster peep-show and more!
Related Questions
What Is the Average Cost for a Boudoir Photoshoot in Western Michigan?
The average cost for boudoir photoshoots in West Michigan can range from $400 to $1,500 for a customized and professional boudoir session. Purchases are separate. This can vary depending on the photographer, their experience, skills, and your chosen package. I offer financing and prepayment plans to give the best professional boudoir experience.
What Can I Expect During a Michigan Boudoir Photography Session?
For my boudoir photo sessions in Michigan, you can expect professional guidance on posing and styling, as well as a relaxed and supportive atmosphere. You'll have lots of resources along the way including a pre-shoot consultation to discuss your vision, preferences, wardrobe, fears, and comfort level.
When Should I Book a Boudoir Shoot in West Michigan?
The best time to book a boudoir shoot in Western Michigan is at least two to three months in advance, especially if you plan to use the pictures for a special event. This allows enough time to schedule a pre-shoot consultation, select outfits, and ensure that your final images are ready when needed.
Conclusion
Boudoir photography can be a powerful way to celebrate oneself, boost confidence, and create stunning, intimate portraits. No matter your style, West Michigan has a wealth of beautiful locations and talented professionals to make your boudoir photoshoot experience memorable. So, go ahead and embrace this powerful form of self-expression and self-love! We hope to chat with you soon!